Administration > Discussions
On this screen, you can choose how detailed logs memoQWeb should keep; how to handle when someone enters a wrong password too many times; and if users can reset their own passwords.
How to get here
On the left sidebar, click the

Admin

icon.
On the Admin screen, click the

Discussions

button. The

Discussions

screen opens.

What can you do?

Enable or disable topics on the server
The Discussions feature provides topics that team members can use to communicate. If the feature is enabled, translators, reviewers, and project managers can start topics about projects, documents, segments, terms, term bases, or about anything in general. You can enable or disable it on this page. Normally, topics are enabled. If they are enabled in general, you can still turn off some of them.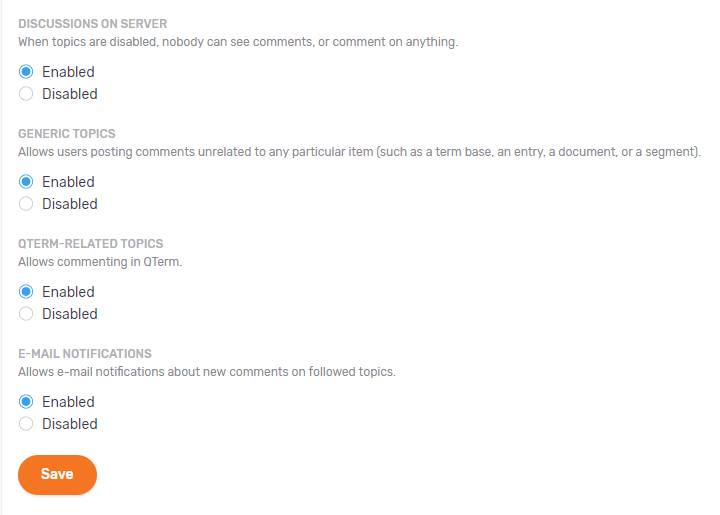 To turn off the Discussions feature on the server: Under Discussions on server, choose the Disabled option. Nobody will be able to see comments, or comment on anything.
If topics are turned on in general, you can turn off some of them:
To prevent users from posting comments that are not related to any particular item (such as a term base, an entry, a document, or a segment): Under

Generic topics

, choose the

Disabled

option.
To hide topics from certain users, use groups: If you want to hide topics from some users, but not all, do not turn off Discussions. Instead, create a group that is excluded from topics, and add these users to that group. Topics will be available for everyone else, but these users will not see any of them.
To save your changes to this section: Click the Save button at the bottom of the section.