People
In customer portal's People section, you can manage contacts and accounts.
Open customer portal in your web browser. Log in using your email and password.
Click People above the menu bar at the top.

The Contact page lists all the project managers on the provider's side who are assigned to your requests. You can send them emails from here. However, when you deal with a specific translation request, use the Contact PM button or icon that belongs to that request.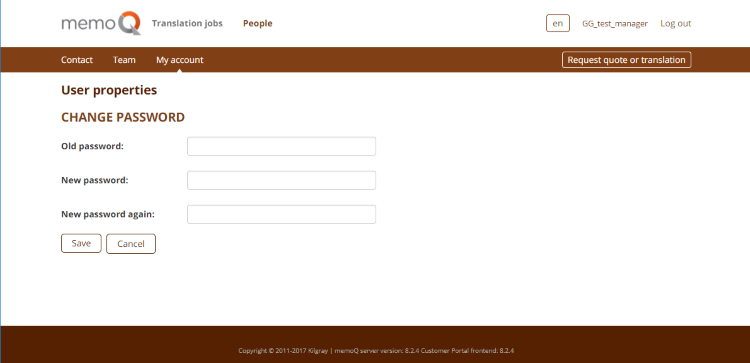 The My Account page is where you change your customer portal password. You can also get here if you click your user name at the top right on any customer portal screen. Click Save to make the change or Cancel to go to the Dashboard without changing your password.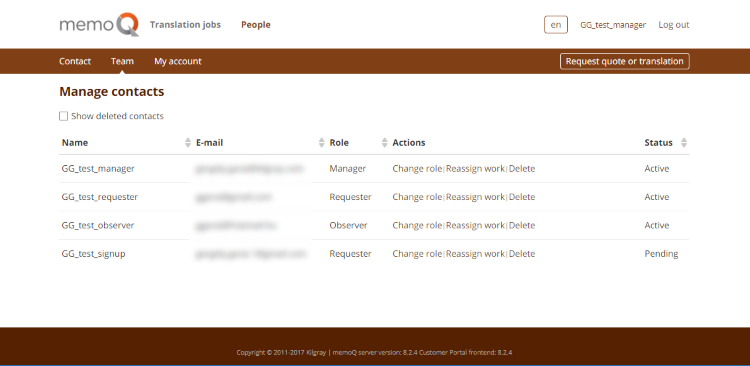 To access the Team page, you need to have the Manager role. On the Team page, you can see all customer portal contacts from your company.
Click Change role to change a user's role to something else. Choose their new role and click Apply. If you click Cancel, the role will not change.
Click Reassign work to assign all the user's quotes to another user. Select the new user and click Apply. If you click Cancel, the assignments will not change.
To delete a user, click Delete, then click Delete again. Before you do this, you need to reassign their work to someone else.
If you check the Show deleted contacts check box, your company's deleted users will appear in the list: