Create new MT settings
memoQ does not perform machine translation itself, but it can connect to many external machine translation (MT) tools and services. Each of those services have different settings. You can configure them and save the collection of settings into an MT settings profile.
Must be purchased separately: memoQ does not include the price of using a machine translation tool. Before you use machine translation in memoQ, you must obtain your access separately - directly from the provider of the tool. Most tools are not free: you need to purchase the tool or the right to use it.
Default values: When you create a new MT profile, all services will be turned off in it. You need to turn on the services you want to use, and choose their settings. To do this, edit the MT settings.
How to get here
Open the Resource Console. Choose MT settings. Under the list, click Create new.
From the Options window: Open the Options window. Choose the MT 

icon. Under the list, click Create new. From the Options window, you can create local MT profiles only. You cannot create an MT profile on a server, and you can't use one from a server, unless it is pinned on the Resource Console.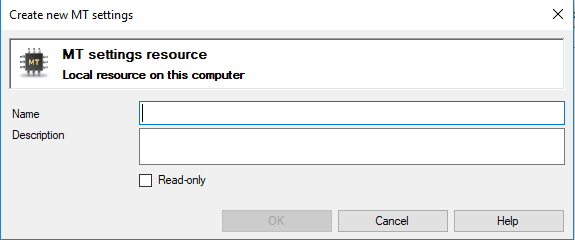 If My Computer is selected in Resource Console – or creating profile from a local project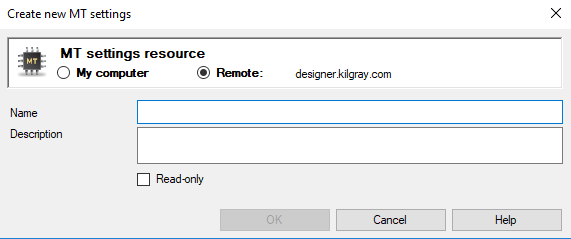 If a memoQ TMS is selected in Resource Console
What can you do?

Choose a place for the MT profile (Resource Console only)
If you come from the Resource Console, and a memoQ TMS was selected at the top: You can choose to create the MT profile on your own computer; or to create it on the server.
To make your choice: Click the My computer or the Online radio button.
You cannot choose another server here. To create the resource on another server: Close this window. Choose the other server at the top of the Resource Console. Click Create new again.

Give a name and a description to the MT profile
Type a name in the

Name

box. The name must be unique on your computer - or on the server where you're creating it.
Describe the purpose of the MT profile in the

Description

box. Never leave it empty: think of the other people who may need to use this MT profile, too.
When you finish
To create the MT profile: Click OK.
To return to the Resource Console or to the Options window, and not create an MT profile: Click Cancel.
To use an MT profile: Open the Options window. Click the MT

icon. Check the check box of the MT profile you want to use.