Create new project template
A project template helps you create memoQ projects very quickly and consistently.
A project template is a collection of settings, commands, and scripts that help to create a new project where documents and resources are processed automatically, and the project manager has very little to do.
To learn more, see the topic about editing project templates.
You cannot edit default project templates. (There are two in memoQ translator pro, and three on a memoQ TMS.) Either you need to make a copy of a default template, or you need to create a new one.
You use templates to create projects: To use a project template, create a project. Open memoQ. On the Project ribbon, choose New project from template or New online project from template.
Default or empty settings: In a new project template, settings are either the default, or they are empty. You need to edit the template to make project creation more automatic.
How to get here
Open the Resource Console. Choose Project templates. Under the list, click Create new.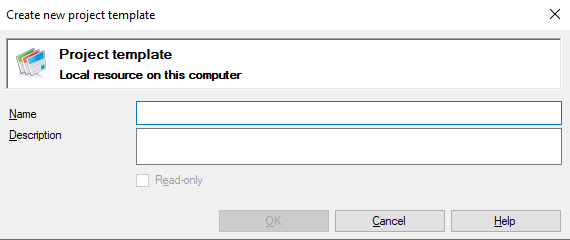 If My Computer is selected in Resource Console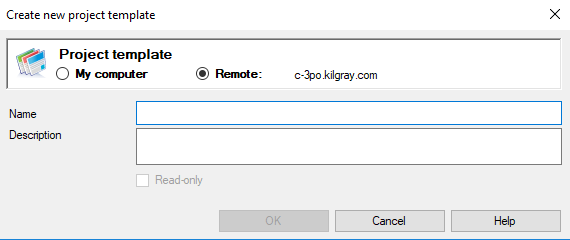 If a memoQ TMS is selected in Resource Console
What can you do?

Choose a place for the project template
If you come from the Resource Console, and a memoQ TMS was selected at the top: You can choose to create the project template on your own computer; or to create it on the server.
To make your choice: Click the My computer or the Online radio button.
You cannot choose another server here. To create the resource on another server: Close this window. Choose the other server at the top of the Resource Console. Click Create new again.

Give a name and a description to the project template
Type a name in the

Name

box. The name must be unique on your computer - or on the server where you're creating it.
Describe the purpose of the project template in the

Description

box. Never leave it empty: think of the other people who may need to use this project template, too.
When you finish
To create the project template: Click OK.
To return to the Resource Console, and not create a project template: Click Cancel.