Sign in to
memoQweb
You can sign in to memoQweb on this page.
If you forgot your password: and the server administrator allows it, you can reset your password here, too.
How to get here
Open memoQweb in your browser. The URL is normally https://mymemoqserver.com/memoqweb, where "mymemoqserver.com" is the address of the company's memoQ TMS. The sign-in page opens: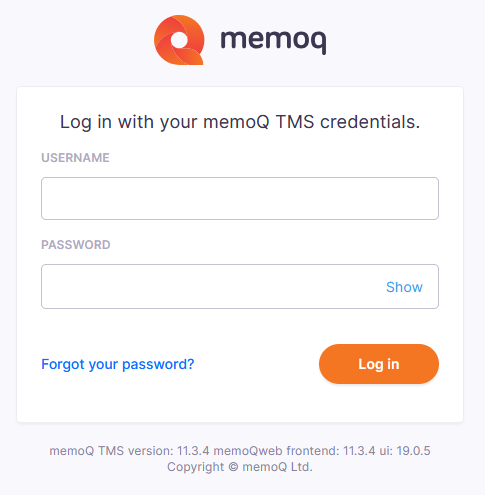 What can you do?
To sign in: Enter your Username and Password into the text boxes. Click the Sign in button. memoQweb's main page opens.
To reset your password: Click the Forgot password? link. memoQweb sends you an email to the address in your user profile. When you click the password reset link in the email, memoQweb's password reset page opens. Enter your new password there.
Link is not there? The memoQ TMS's administrator does not allow users to reset their own passwords. Ask the administrator for help.
Signing in to memoQweb takes a license from the server: When a user signs in to memoQweb, the memoQ TMS behind the memoQweb (legacy) site automatically grants them a license. When you cannot sign in to the server or you cannot open a document for translation, it usually happens because the server has no more available licenses.

Sign in with an external ID provider (single sign-on)
If the memoQ TMS uses OIDC-based single sign-on (SSO), you can log in to the server with your Azure AD or Okta account. In this case, there is a button under the usual fields: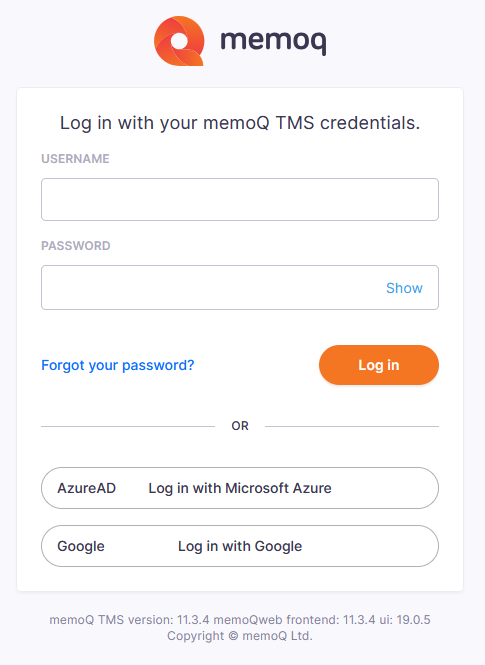 Click this button.

If this is the first time you log in to the memoQ TMS using SSO, another window opens:

If you never worked on this server, choose the option

No, this is my first time here

, and click the

Continue

button. Then tell your

memoQ TMS

admin or your project manager that you need their help to log in.
If you worked on this server before, choose the option

Yes, I worked on this server before

, and click the

Continue

button.
On the next screen, enter your

memoQ TMS

username and password, then click the

Sign in

button.

memoQ TMS

connects your ID provider account to your

memoQ TMS

user, and logs you in.
From now, you need to use SSO to log in to this server - your memoQ username and password will not work.