Web search settings
With memoQ web search, you can search for a word or a phrase on several web sites at once. The resource called the web search settings defines which websites and how.
In the Web search settings window, you can choose from predefined search pages, and to add your own ones.
You can also edit online web search settings if you have the privileges. However, one list may only be edited by one person at a time.
How to get here
Open the Options window. Choose Default resources.
At the top, click the

Web search settings

icon.
Check the check box of the Web search settings profile you want to use. You may need separate Web search settings for each source language.
Right-click this Web search settings profile, and choose

Edit

.

The Web search settings window opens.
In the Resource console: You can edit web search settings in the Resource console, but you cannot choose which one you will use. Use the Options window for this whenever you can.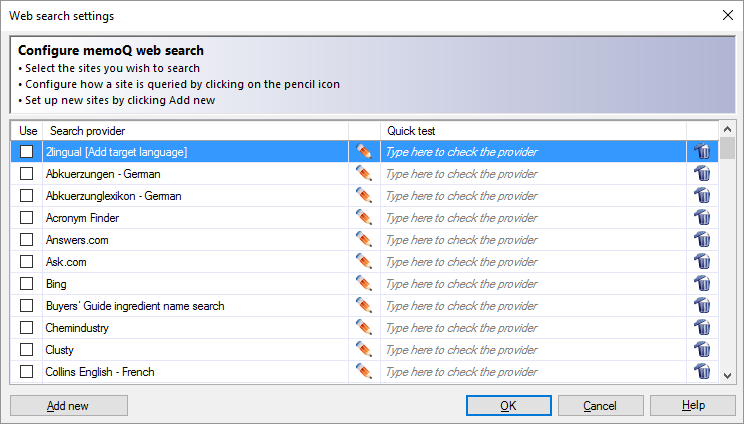 What can you do?
Turn on a search provider (a web page) for web search: Check the check box in the row of the provider.
Check the check boxes of all the providers you want to use for web search. When you use memoQ web search, memoQ will search on every web page that is turned on here.
Test a provider: Type or paste text in the

Quick test

column, and press

Enter

.
To edit a provider: Click the pencil icon in the same row. The Edit search provider window opens.
To remove a provider: Click the dustbin icon in the same row.
To add a new provider: At the bottom, click

Add new

. The Edit search provider window opens.
When you finish
To save the changes and return to Options: Click OK.
To return to Options without saving the changes: Click Cancel.
To use Web search: Open a project. Open a document for translation. Select a word or a phrase. Press Ctrl+F3. The memoQ web search window opens.
See also: Getting the picture with automated web searches by Kevin Lossner