Upgrade memoQweb
memoQ and memoQ server get regular updates. Updates are very minor new versions that contain bug fixes only. An update has the exact same major and minor version number, but a higher build number. For example, 8.1.6 is an update to 8.1.5.
A few times a year, new versions are also released. These new versions contain new functionality as well as bug fixes. A new version has a different version number - maybe even the major version number is different. For example, 8.2.1 is a new version - an upgrade - to 8.1.6.
When you upgrade memoQ server to a new version or to a new build, you must upgrade memoQweb, too.
Always upgrade memoQ server first: You can upgrade memoQweb only after you upgrade memoQ server. But then you must do it.
How to get here
Type

memoQ

, and wait for the results to appear.
In the list, click

memoQ Server Deployment Administration

.
The

Deployment

window opens. You need the second section (

memoQweb

):
The Upgrade memoQweb command is available only if the version of the Deployment tool is newer than the memoQweb version installed on the server computer
To upgrade your copy of memoQweb, click

Upgrade memoQweb

.
What can you do?
Check the versions. The Deployment tool can upgrade your copy of memoQweb to the version it shows in the New version box.
If this is not the version you want to upgrade to, click Cancel.
To perform the upgrade, click Next.
If you need to restore an earlier version: Remove memoQweb, and then restore an earlier version of memoQ server. Then install memoQweb again from the Deployment tool of the earlier version.
Was memoQWeb running in a 32-bit application pool?
From version 9.0, memoQ and memoQ server are 64-bit only. Because of this, you have to change memoQWeb's IIS app pool to 64-bit. When you start the upgrade, this window opens: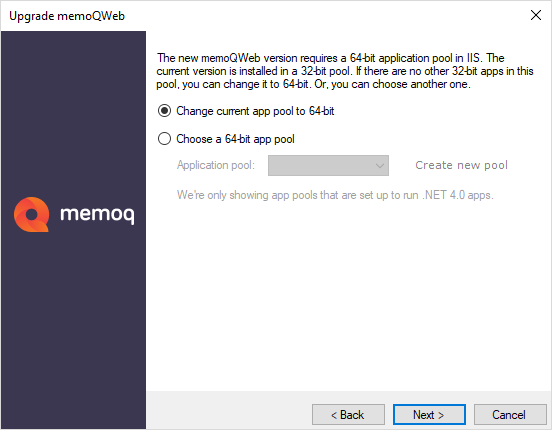 If

memoQWeb

is the only application in that app pool, choose

Change current app pool to 64-bit

, then click the

Next

button.
When you finish
From a web browser, check the connection to memoQweb.
If Customer Portal is installed: Upgrade Customer Portal, too.